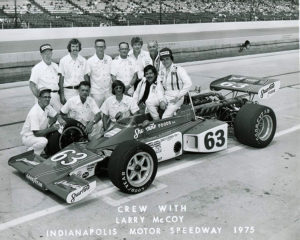 MY LOVE FOR AUTO RACING IMAGES
Auto racing images have always been one of my favorite subjects to photography. I would like to dedicate this page to two people. My father Ernie DeFabis took me to my very first Indy 500 in 1967. I was 12 years old and from that moment, I was hooked on auto racing. Dad continued to take me to race after race until the mid 1970's and after that I purchased my own tickets and have had my E Penthouse seats ever since. 2020 will be my 53rd in a row.
In 1972, I met Dick Jordan (DJ), we became good friends and he was my best man at Terri and I's wedding in 2007. DJ's passion for auto racing was second to none. DJ would always invite me on his racing trips and being a wedding photographer I attended races when I could. It is because of DJ and the opportunities he gave me, that I developed a skill for photographing racing cars and was fortunate to meet other amazing motorsports photographers and racing personalities.
In 1975 and 1976 I had the fortune to be on a pit crew for Larry McCoy. My passion for auto racing photography continues to this day.